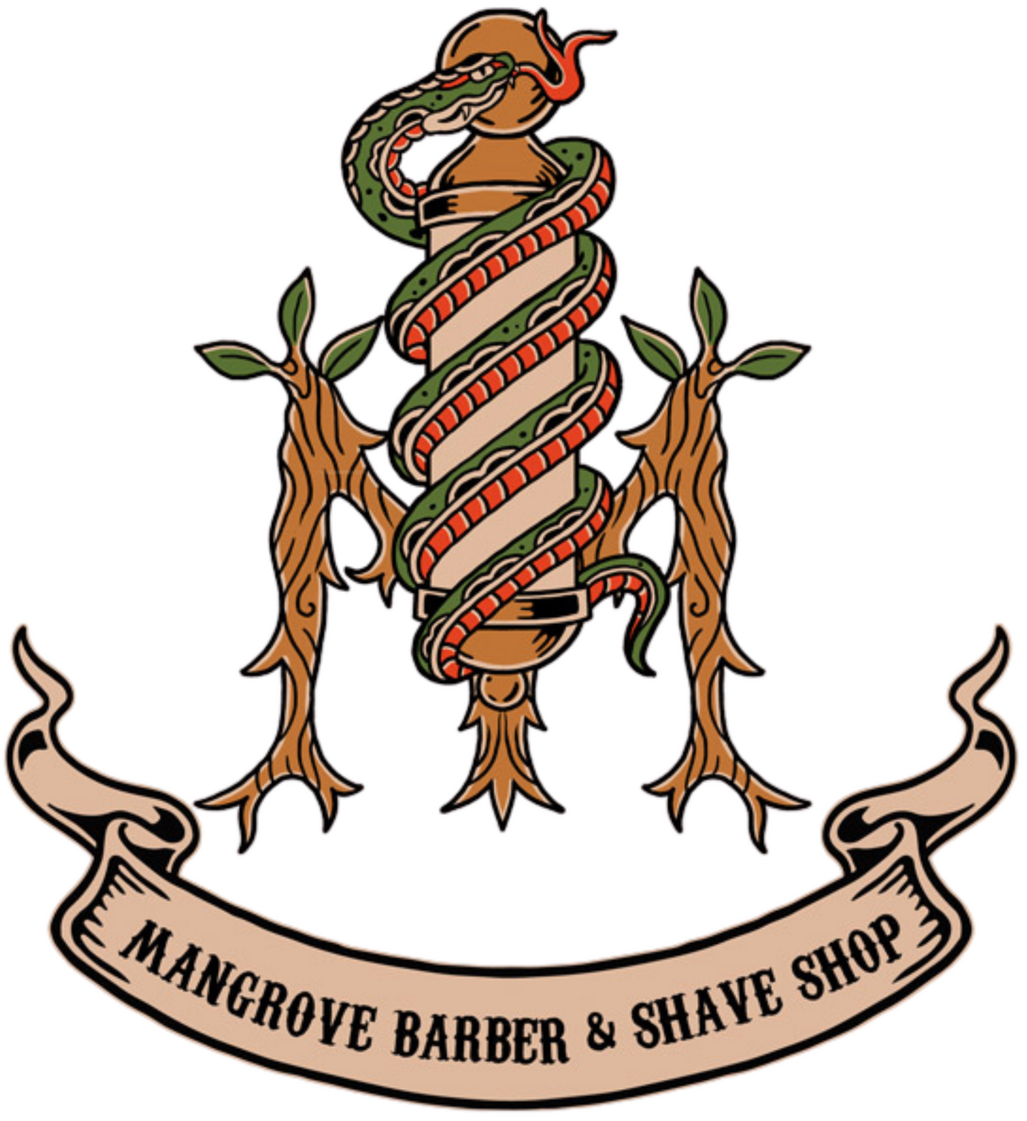 Kick back. Chill out.
Look great.
EYE CATCHING CUTS FOR MEN ✂︎ HOT TOWEL SHAVES ✂︎ BEARD TRIMS
Hand Grooming✂︎Foot Grooming✂︎Facials✂︎Waxing
★★★★★
We've got a perfect 5-star rating on Facebook and lots more 5-stars on Yelp and Google too!
A man's life is full of compromises. Your barbershop experience shouldn't be one.
Look like a million bucks every day. If you've got a classic look you know you love (or your lady loves) we will execute with excellence. Perfect fades. Crisp lines. Clean cuts. If you're looking to try something new or different we will help you find your style and get the right look. Manliness isn't a mold.

Don't break the bank. Naples might be the happiest and healthiest city in America, according to Gallup, but we all know it's not the cheapest. Being in paradise is no excuse to rip you off. Men's haircuts are just 32 bucks here. Hot towel shave? $25. Both? Just 50 smackers.

Relax. You work hard. You're busy. You deserve some chill. Kick back, enjoy free drinks (hot & cold) and have a good time. We've got great tunes, fast wifi, cushy couches, sweet & salty snacks, and friendly conversation. You'll know your a regular when you start showing up early to hang out.

Man up and make ManGrove Barber and Shave Shop your barber.

Don't forget to check out our gentlemen's spa services Manicures, Pedicures, Face, Back and Beard Facials and Waxing
https://www.facebook.com/MenOnlyGrooming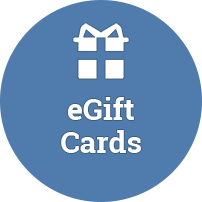 Serious old school cool, with old school barbers! Tony is awesome thanks guys for bringing this to Naples!

— Eric W.
David Gordon

This is really great spot. Cool atmosphere and great barbers. My son and I have been coming here since they opened this location and have loved coming to get our cuts. Santos does a great job cutting. Highly recommended!
Dallas McCutcheon

I had my back waxed today by the awesome Kobie Burke!! It was quick, painless & entertaining. Kobie is a riot & at the same time professional!! I will definitely be back to try more of their services!!
Paul Connors

This was my first time and when I walked in loved the space! My appt was with Dev and while she was running behind it was worth the wait! She's meticulous and gave me a great haircut! I will be back!!
Services Offered
| For Gentlemen | | $ |
| --- | --- | --- |
| Cut & Style | Look like a million bucks for a whole lot less. No-nonsense super-great haircut and styling. | 32 |
| Cut & Shampoo | Get your hair feeling refreshed | 35 |
| Beard Trim | All beards welcome. Man-mane taming at its finest. | 20 |
| Hot Towel Shave | A classic straight-razor shave enjoyed by men for centuries. Manly. Civilized. Relaxing. | 25 |
| Cut, Style & Hot Shave | Customers' favorite. A sweet haircut and old-school hot towel shave. | 50 |
| Buzz Cut | One length, edged up nicely. | 20 |
| Cut, Color, & Style | The right length, right color, and right look for you. | 56 |
| Manicures | Hands the ladies will want to touch and be touched by | 20 |
| Pedicure | Your feet will be treated to gentle exfoliation , your toes clipped the way you like them , foot and calf massage ...foot love | 40 |
| Manicure and Pedicure Package | 55 | |
| Ear, Nose , or Eye Brow Waxing | 13 each | All Three 35 |
| Back or Chest Waxing | 55 | |
| Ear Candling | 29 | |
| Extras & Specials | | $ | |
| --- | --- | --- | --- |
| Growing Gent | Old-time quality haircut and style for young men 13 & under. | 26 | |
| Senior Gent | | | |
| 26 | | | |
| Men's Color | | | |
| 30 + | | | |
| Father & Son | Share a manly experience with your boy. Cut & Style for gentleman-dads and their growing gents 13 & under. | 50 | |
| Wash and Head Massage | Don't worry, we use manly shampoo. You won't smell like a flower. | 10. | with any cut 5. |
Your Barbers
Not just pretty faces, these guys know what the hell they're doing.
Making the men & boys of Naples look damn fine. You're welcome, Ladies.
"Best hair cut ever. All staff are good. It is like walking into your friends house." – Trenton K.

"Hazel cut my hair to perfection." – Joe T.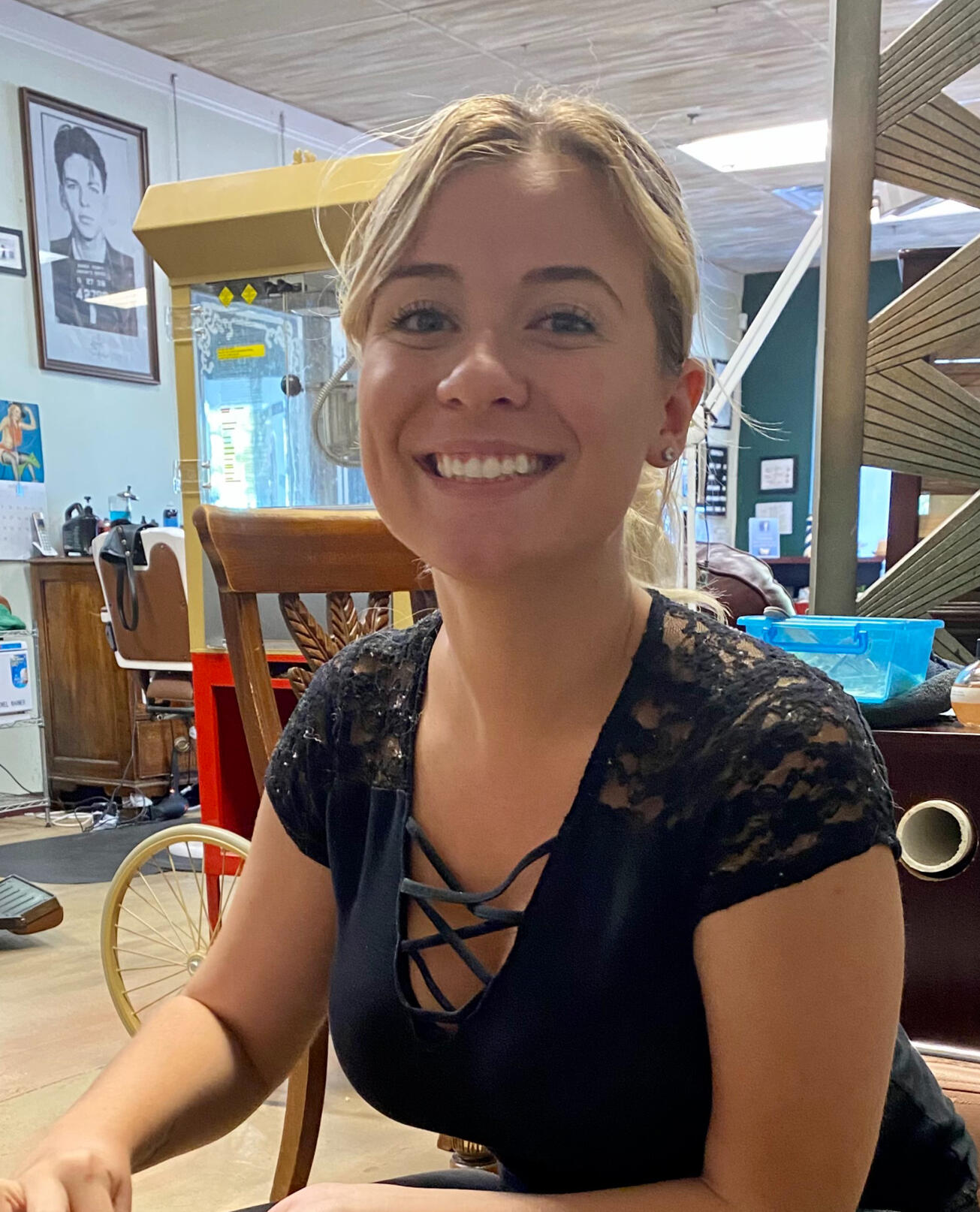 Luis Fuentes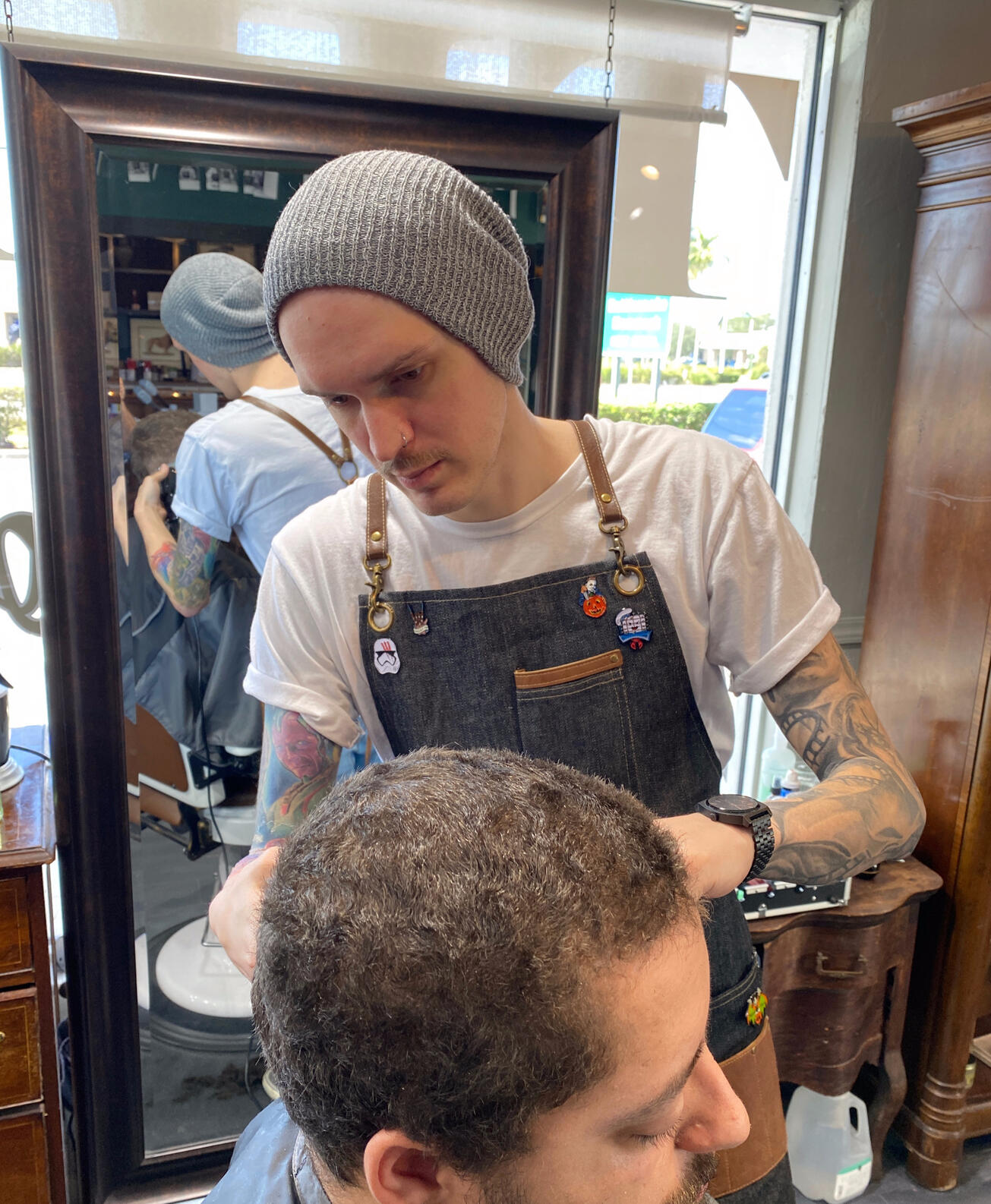 Mike Long
Mahina
Kobie Burke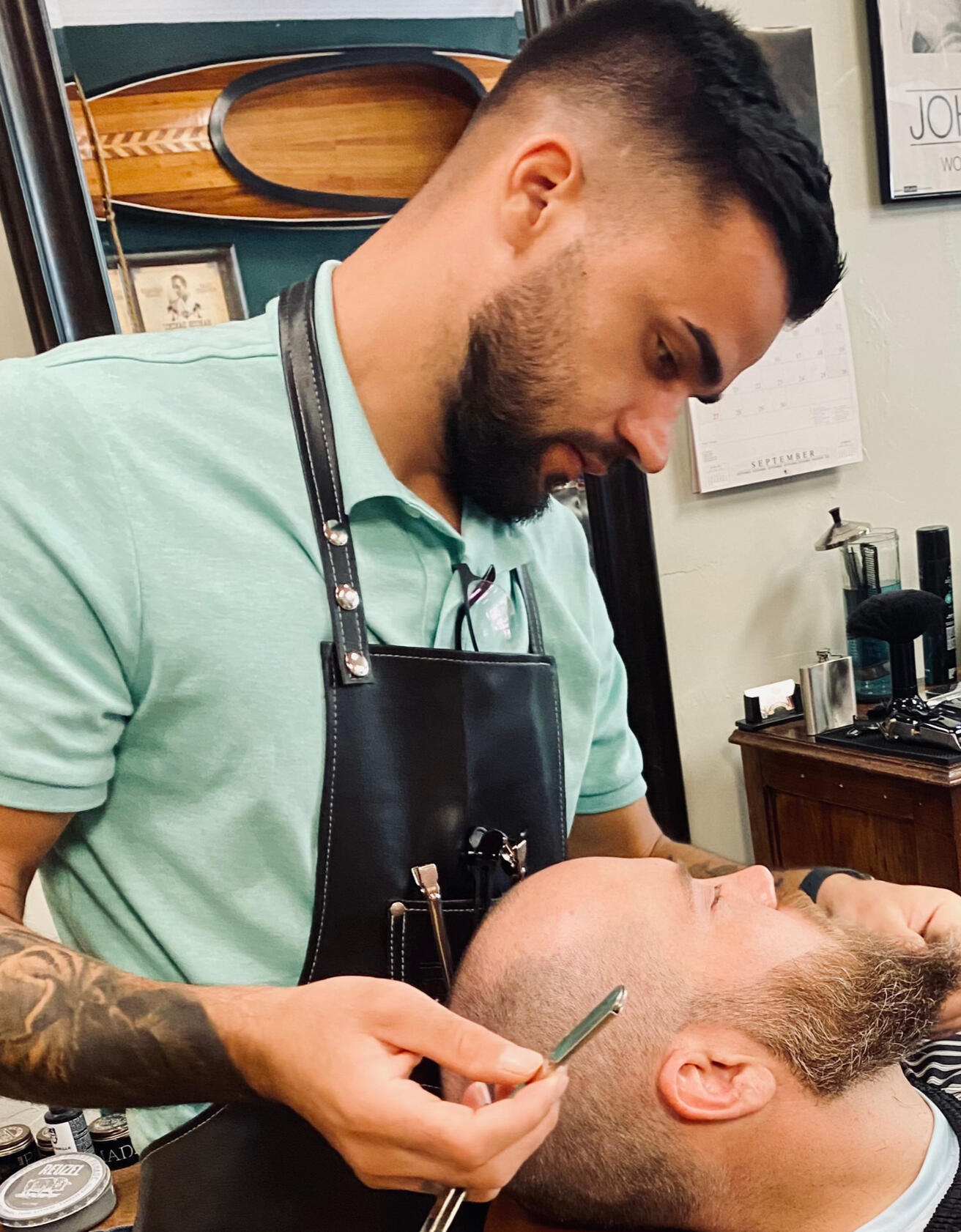 Gersi
Barbers Standing By
Make Your Appointment Now
Instant Online Bookings Below
– or –
Call (239) 315-4972
I'm new to Naples and needed a new barber. After getting a ton of recommendations I decided to give Hazel and the guys at [The] Barber a shot.

Best. Haircut. Ever.

— Justin H.
Outstanding barber shop. Great people, had a good conversation during my cut, which was expertly done. Got a hot shave, its what a barber shop should be. They are doing it right.

— Christopher S.
This is what it's all about, I'll never step foot in a salon again. Old school meets 2015! A combination of dad's barber and today...

— Jono L.
Very cool, interesting, entertaining and most hospitable shop I have ever been to. Hazel cut my hair to perfection. As long as 5th Avenue Barber & Shave Shop is in Naples, this will be the only place I go for a cut and shave.

— Joe T.
Copyright 2021 The Barber and Shave Shop. All rights reserved. Don't steal our stuff, dude. Not cool.
Text